Welcome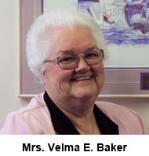 Welcome to the 2020-21 school year at Velma E. Baker. Our building is the heart of the neighborhood, offering opportunities for various community sports and activities. Our school is named after Velma E. Baker, an amazing lady who was a respected Edmonton Public Schools custodian and CUPE Local 474 President.
Mrs. Baker was highly regarded and recognized for her leadership and charismatic people skills. She made significant contributions to our school district and positively influenced the lives of many students and staff. Unfortunately Mrs. Baker passed away in October 2017, but her spirit of kindness, diligence, perseverance and positivity live on in our school.
This website provides parents with general information about our school. We use SchoolZone, a secure information system developed by Edmonton Public Schools, for most of our information and communication materials. It is designed to enhance communication between home and school and is available anytime. Parents receive a password to this web portal to access classroom information, newsletters, progress reports, school programs and activities and much more. For specific information parents are encouraged to contact their child's teacher or our school office.